TOP-QUALITY FOR THE BEST TASTE
For us, quality is paramount, not only in terms of our products, but also the services we offer and the ingredients we use. That's the way things have been for 150 years and that's the way they will stay. The freshness of the goods we deliver and total reliability has earned the appreciation of our retail and wholesale customers.
We have been IFS-certified since 2006 and welcome weekly unannounced veterinarian visits as well as multiple annual AMA inspections. This officially certifies our consistently high level of performance.
20 000 storage pays covering 12 000 m2 are at your disposal in our cooling and drying rooms for storage at temperatures as cold as minus 28 degrees. We will also store your fruits, beverages or boxes in a refigerated or dry state for you. Just ask us! We offer you safe, reliable storage solutions. Your goods will be retourned in their original condition thanks to our regular controls - just call and let us know!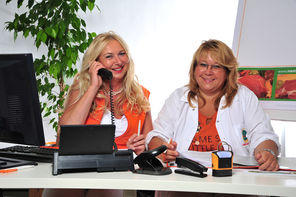 Our flexible service knows no limits
Our competent, well trained team has the flexibility and commitment needed to fulfil the wishes and needs of our customers down to the last detail.
JUST CALL US
+43 2743 255 25